Getting to Hakuba Ski Fields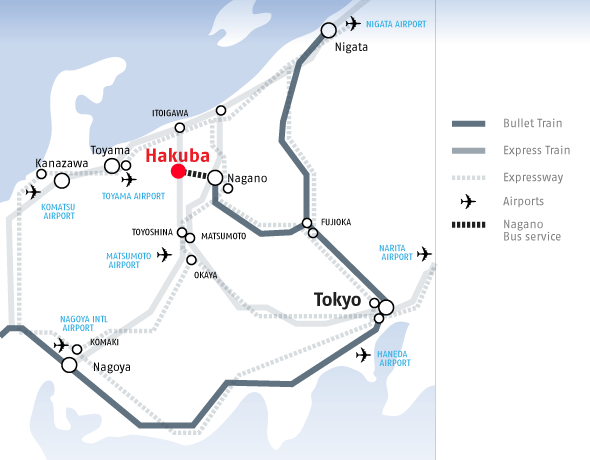 One reason why Hakuba has remained Japan's best kept snow secret is that it's off the beaten track. However, Japan has fast and efficient transportation including reliable baggage transport services - with a little knowledge, getting to and from Hakuba and exploring other areas of Japan can be easily arranged.
To make your travel easier it is possible to have your luggage and gear sent via "tukubin" or courier from the airport, this is a safe, reliable and cheap way not to have to carry your bags. If you get it checked in at their office before 5pm it will arrive 24 hours later in Hakuba. Things sent from Hakuba to any airport need to be sent 48 hours before your flight. Look for a black cat symbol to locate their offices. Cost is approximately ¥2,500 per bag one way.
From Narita Airport - Hakuba.
Airport Taxi
Taxi from Narita to your hotel door in Hakuba takes approximately 6 hours during the day and 4.5 hours during the evening. Perfect solution if you are arriving at Narita on a late flight and want to make the first runs the next morning. The driver will meet you at the airport. This service must be booked in advance.
Train Passes
If you decide to use a train route from Narita or Haneda Airport, Snowbeds Travel highly recommends the purchase of a JR East 5 Day Flexi pass (see http://www.jreast.co.jp/e/eastpass_n/index.html ). These passes are only available to non Japan residents and can be purchased yourself in your country of origin or at Narita and Haneda Airports. The pass is a flexible five-day pass (any five days within 14 days of issuance), giving the luxury of side tours or Tokyo stopovers without increasing your transfer costs to Hakuba.
More information
Ski Hakuba, Japans Premier Ski Resort. Why Ski Hakuba?
One of the largest ski areas on one pass in the...
To arrange a more personalised holiday, for more information about Hakuba and the region, or just any questions you can think of about skiing in Japan don't hesitate to contact us...