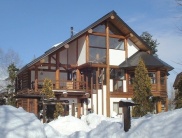 Hotel
Self contained chalet and condominiums
Budget
Echo Hotel - 7 Nights Two bedroom Family Suite Package
Y84,775 per person

Includes;
7 nights accommodation in a 2 bedroom family suite with breakfast
Return coach transfers from Narita Airport to the hotel
6 days multi resort lift pass
This is a price guide only and prices can vary with peak nights. Price is based on 2 adults and 2 children sharing.
If you wish to include rentals, lessons, a...
Find out more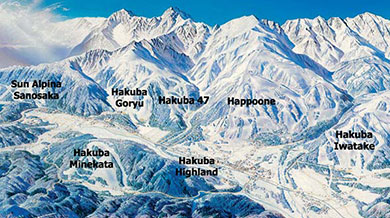 Japanese snow conditions made famous by Niseko are actually prevalent throughout the country. Home to over 500 ski areas, spread throughout the mountainous interior of the country the best of these resorts is Hakuba. Located an hours drive west of the 1998 Winter Olympics host city, Nagano and 350kms north of Tokyo.
There are 14 ski areas, all of which are joined in various ways to create six large resorts and a few smaller ones. A total of 137 lifts makes for less crowds than most resorts.
There is something for every holiday maker from single travelers to a family. Skiing holidays in Hakuba, Japan have it all!
Testimonials
My wife and I had an amazing stress free trip thanks to you guys!
I went through you because of all the great reviews you had online, and because I didn't have time to try to plan a ski trip myself. it was so easy to set up this trip from your website, and since this was my first ski trip, I was very glad for that! As for the trip we never had to worry about a thing. Travel was smooth and stress free, and the chalet you recommended was even more incredible than you made it sound!
Honestly, I never would have been able to set this up without you. Thank you so much, we couldn't be happier and will be using Snowbeds again! Thanks again,
D. Lamb
Read more testimonials about skiing in Japan
Foreigners Skiing in Japan; the Early Days
Ski Japan; the Beginning
Believe it or not until recently skiing or snowboarding Japan was pretty much unheard of outside Japan itself. Snow enthusiasts instead flocked to Canada and the U.S. in Nth America and France, Austria, Switzerland or Italy in Europe for their powder snow fix.
That all began to change around 10 years ago when Australian companies in two resorts, Niseko and Hakuba realised that Japan was an untapped skiing and snowboarding paradise. Started in 1998, Snowbeds Japan was one of them and is actually the first foreign owned company in Hakuba.
Getting the Word Out About the Skiing
It took a few years to get the world to take notice though. This writer, after telling a prominent Melbourne travel agent some 10 years ago that "Hakuba averages 10 metres of snow a year, never has lift lines or crowds and a daily lift pass is only AUD$60" was told; "You don't go to Japan to ski, you go to Canada" Imagine my surprise! What had I been doing in all that powder for the previous five years!?!
It just seemed too good to be true; cheap, uncrowded, world class ski conditions and also in the same time zone as eastern Australia and half as far as the traditional skiing destinations. These fledgling companies knew they were onto a good thing so despite lacklustre interest from agents they persevered with their "Ski Japan" sales spiel and as their few but growing numbers of customers returned home with amazing stories and photos of incredible untouched snow the word slowly spread and year by year more people came to see if the rumours were true. By around 2005 there were thousands of skiers and snowboarders converted to the Japan snow experience. The legend was born.
Ski Japan; the Present
There are now tens of thousands of diehards enjoying the skiing and snowboarding in Japan experience every year and dozens of new companies have jumped on the bandwagon selling everything from 5 star luxury to cheap package tours. Many newly arrived Australians also bought their own lodges to "live the dream" or investment properties and have helped promote the economy and diversity of these resorts. Don't worry though, these resorts are big enough that even with these numbers the crowds are still smaller than you will encounter at most other ski resorts in the world.
While Niseko and the much bigger Hakuba are still the most popular resort destinations for convenience and foreigner friendly service other great resorts like Nozawa Onsen are gaining prominence.
Snowbeds Japan, also known as skijapantravel.com, though over 10 years old is still a boutique agency preferring to concentrate on quality over quantity and we have built a strong and loyal client base as evidenced by our glowing customer testimonials. Contact us now to ensure your next Ski Japan holiday is the best it can be.