Ski Hakuba Japan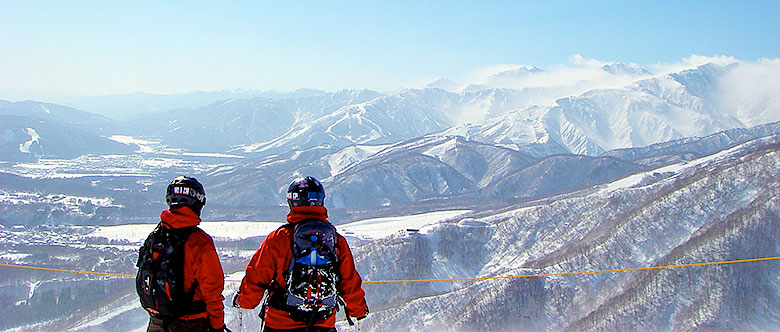 Restaurants
Hakuba has literally dozens of great restaurants located in all areas of town. Seek and you can find many little gems hidden away in the nooks and crannies of Hakuba. If you're on foot the best places to start are Echoland and the Happo area. Beware, many have no English speaking staff or menu, however this can lead to a great cultural experience, a lot of fun with the friendly locals and the trying of some tasty dishes you won't find at home! To help you on your way here's a list of restaurants we recommend:
Deprecated
: Required parameter $count follows optional parameter $name in
/var/www/snowbeds/www.snowbedstravel.com/library/PeptoKit/View/Helper/Split.php
on line
23
Bars
Hakuba has a great many bars and an often vibrant nightlife. Being so spread out knowing which place to be in on which night is the tricky part so here is a list for you to consider. Echoland has the highest concentration of bars within walking distance of each other however, all areas of town offer nightlife in some form or another.
Onsens
Onsen is the Japanese term for Natural Hotsprings and Hakuba has four different water sources all with their own distinctive blend of natural minerals. Popular with the locals for their medicinal properties, no trip to Japan is complete without a visit to an onsen. Perfect for relaxing tired aching muscles after a day on the slopes, but remember, if you're shy bring a little towel to cover up with as going nude is the rule.
Shops
Shopping for ski/snowboard equipment in Hakuba can be interesting as the new seasons models here are 6 month in front of the southern hemispheres and often cheaper too, so you can buy here and your new gear will still be current when you take it home for another winter's riding! Here's a list of a few other places of interest too.
The Five main Hakuba Ski Resorts
Ski resorts in Japan are usually made up of a number of ski areas all under separate management with separate lift passes. However due to recent international interest and patronage by foreign clientele... Hakuba Ski Resorts »
Hakuba Accommodation with Snowbeds Travel Japan
Snowbeds Travel has been based in Hakuba since 1998. We were the first foreign owned company in town selling Hakuba accommodation and we have introduced the pleasures of skiing in Hakuba... More Hakuba Accomodation »
Ski Hakuba, Japans Premier Ski Resort. Why Ski Hakuba?
One of the largest ski areas on one pass in the country; Hakuba ski resorts have well over 130 lifts spread over 6 large areas that you can access with the multi resort inbound lift pass available from Snowbeds Travel . Compare that to Niseko with just 36 lifts total.This is about the size of just one of the larger Hakuba Ski resorts or one of the multitude of even smaller resorts dotted around Japan where you could ski every run in the resort the first day you are there. Rest assured, there are enough runs in Hakuba to keep you going for weeks!
The most diverse terrain you will find anywhere in Japan; Want to take the family to wide open spaces with just the slightest of slopes to get the kids the best start on their ski's? Hakuba has it. Want to test those new powder ski's in the steep and deep? You can do that. Want to push it to the limit in some of the steepest hills you will find anywhere in the world? Endless backcountry available here. Want to rip it up in the pipe and spin off tabletops. At least 3 pipes and many jump parks call Hakuba home. Want to perfect your mogul technique? We've got that too.
User-friendly and convenient; At just over 2 and a half hours from Tokyo, Hakuba is one of the easiest resorts to get to in Japan. No changing planes at Narita, just jump on the bullet train and cruise up to Nagano at 260kph while sipping on a cold Asahi and enjoying the countryside zipping by outside. Spending a couple of days shopping in Tokyo or seeing the sights (Tokyo Disneyland anyone?!?) adds to an unforgettable holiday.
Family friendly; Yes we've got the snow but we get bluebird days too where the kids will love running around outside building snowmen and throwing snowballs with average temperatures at around minus 5 degrees. Compare that to the northern resorts where it never stops snowing, the average temperature hovers around minus 15 degrees and the kids don't want to go outside.
Hakuba is quite a large, spread out ski resort by world standards. It's made up of many ski areas and commercial areas collectively known as Hakuba.
Transportation from Hakuba Ski Japan

Getting around town is easy by a a shuttle bus called the "Genki Go" bus. You can get from anywhere in town to anywhere else in town for just ¥200 making all the great restaurants and bars accessible to any who care to find them. The Genki Go shuttle runs till 10:30pm each night. Taxi's also run till 2:00. In addition to this the ski resorts have their own free shuttle services that run during the day picking up people at a number of stops around town and taking them to and from their resort.
Exchange Money in Hakuba

To get money there are two international ATMs in Hakuba, one at the 7 Eleven (open 24 hours) and the other at the Post Office near Hakuba Train Station (Open only until 5pm on public holidays and Sundays otherwise until 7pm).
For Hakuba ski resorts see: Ski Resorts
More information
Something you'd like to find out before you send your enquiry? Read our FAQs for more information.
To arrange a more personalised holiday, for more information about Hakuba and the region, or just any questions you can think of about skiing in Japan don't hesitate to contact us...