Hakuba Ski Resort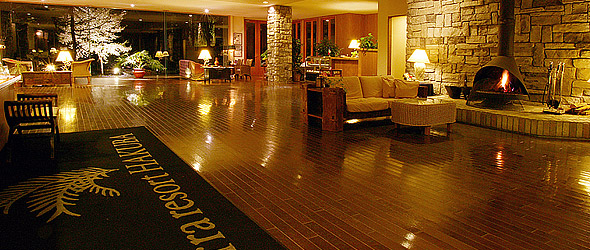 The Five main Hakuba Ski Resorts
Ski resorts in Japan are usually made up of a number of ski areas all under separate management with separate lift passes. However due to recent international interest and patronage by foreign clientele the Hakuba tourism department has created what they call "Inbound Passes". These lift passes are available from Snowbeds Travel and valid at all these Hakuba ski resorts.
The centre piece of the Hakuba valley and a skiers paradise. Happo with a lifted vertical of 1180m is the biggest ski resort in town and hosted the Downhill in the 1998 Nagano Winter Olympics. There is something for all the family here; Long, steep, wide runs of every degree of difficulty, mogul runs, and large parts of many runs are left ungroomed on powder days. There is also a well maintained jump park and half-pipe in the Sakka area.
More information and Gallery »


The other Hakuba ski resort that many would argue is the best in the valley, Goryu and 47, is more favoured among the snowboarders in town. With half the resort facing north away from the sun the snow in these areas retains it's good quality a lot longer than the south facing aspects of other resorts in town. This ski resort also boasts a popular jump park and half-pipe and some nice gladed tree runs in bounds.
More information and Gallery »


Featuring wide open runs and gentler grades than Happo or Goryu 47, Iwatake is often quite deserted and as such untouched powder can be plentiful.
More information and Gallery »


Located a short distance to the north of the main Hakuba town area Tsugaike has huge beginner areas where you can teach the kids or find your feet without fear of hitting anyone or being hit yourself. Long runs, access to some great back country and some sweet north facing aspects complete the picture.
More information and Gallery »


Norikura, seemingly deserted nearly all the time and with great intermediate runs, if you like your space you'll love Norikura. And right next door is Cortina, fast gaining a deserved reputation as a powder skiing Mecca. Steep, gladed tree runs and more average annual snowfall than any other Hakuba resort make the 20 minute free shuttle trip definitely worth while.
More information and Gallery »


Other Hakuba Ski Resorts
There are another 2 resorts in Hakuba as well, to the south Sanosaka can often provide untouched intermediate powder runs as can Minakata to the east of town.
The Inbound multi resort lift pass is valid at all the resorts reviewed here!
More information
Affordable Ski Packages
7 nights
| | |
| --- | --- |
| | ¥74,300 |
| Brownie Condominiums | ¥86,356 |
| Cabin Nets | ¥86,890 |
| Hakuba Echo Hotel & Apartments | ¥87,400 |
| Annex Lodge | ¥89,482 |
| Brownie Chalets | ¥91,840 |
| Slopeside Luxury Chalet | ¥95,737 |
| | ¥96,500 |
| Beaver Lodge | ¥97,050 |
| Apartments within Hakuba Echo Hotel | ¥97,366 |
| The Ridge Apartments | ¥98,280 |
| Bluebird Chalets | ¥98,775 |
| Goryukan Hotel | ¥101,900 |
| Oak Forest Hotel | ¥103,000 |
| Alpine Tenshi | ¥104,025 |
| Hotel Moegi | ¥105,800 |
| Fuku Chalet | ¥109,400 |
| Hakuba Mountain Apartments | ¥114,816 |
| Traumerei Restaurant and Hotel | ¥119,500 |
| The Ridge Hotel | ¥119,800 |
| Hotel Hifumi | ¥122,250 |
| La Neige Honkan Hotel | ¥137,000 |
| Hakuba Tokyu Hotel | ¥141,200 |
| Hakuba Mountain Lodge | ¥151,818 |
| La Neige Higashikan Hotel | ¥152,600 |
12 nights
| | |
| --- | --- |
| | ¥113,200 |
| Brownie Condominiums | ¥122,956 |
| Hakuba Echo Hotel & Apartments | ¥127,450 |
| | ¥130,800 |
| Brownie Chalets | ¥135,124 |
| Cabin Nets | ¥135,300 |
| Annex Lodge | ¥141,182 |
| Bluebird Chalets | ¥144,450 |
| Apartments within Hakuba Echo Hotel | ¥145,966 |
| Slopeside Luxury Chalet | ¥149,850 |
| Beaver Lodge | ¥152,000 |
| Goryukan Hotel | ¥152,100 |
| The Ridge Apartments | ¥156,460 |
| Alpine Tenshi | ¥160,325 |
| Oak Forest Hotel | ¥162,400 |
| Hotel Moegi | ¥167,100 |
| Hakuba Mountain Apartments | ¥171,825 |
| Fuku Chalet | ¥173,800 |
| The Ridge Hotel | ¥191,200 |
| Traumerei Restaurant and Hotel | ¥191,400 |
| Hotel Hifumi | ¥195,000 |
| La Neige Honkan Hotel | ¥221,400 |
| Hakuba Tokyu Hotel | ¥228,600 |
| Hakuba Mountain Lodge | ¥232,445 |
| La Neige Higashikan Hotel | ¥255,600 |